Generally, artists are of the opinion that the only thing they need to do in order to get their paintings sold is to get in touch with an art gallery. The gallery would mention a certain percentage of commission and once the artist agrees then that is all which needs to be done. This practice was prevalent in the earlier times but the new age has changed the way artists sold their works.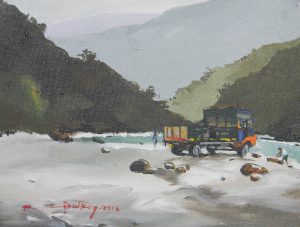 The artists of today are going creative not only to devise new ways to create unique artworks but also to sell paintings. In today's day and age, the work of an artist isn't just restricted to producing art but it also includes promoting it. An artwork has to reach the right set of audience in order to reach the potential set of buyers who'll be interested in purchasing it. The artists in today's day and time have to work on getting their hard work out there to promote it else no one would be able to see its magnificence.
However, as an artist, if the very thought of promoting your artworks in order to sell paintings yourself is daunting, then this blog will provide you with three amazing ways which will empower you to market your paintings.
The internet is your best friend:
We are living in a digitally advanced world where every single thing has a presence in the online world. You can take the benefit of this platform in order to sell eye-catching paintings. Get in touch with online art galleries and ask them if you can list your artworks there. Doing so would help you in attracting sufficient eyeballs. In addition to this, you can also choose to promote your works on social media by creating your own unique accounts and getting affiliated to communities.
Building a robust network in the world of art can help you sell your paintings in a jiffy. This is undeniably one of the biggest and most efficient ways in which you can promote your artwork. A wide network will help you get closer to even more influential people who can be of immense help in getting you better opportunities. So, focus on building contacts and networks.
This is a great tip for the beginners who are willing to sell paintings. Art competitions generally have sufficient amount of limelight which can be of great assistance for every artist. Going there and competing can actually help you get noticed in the eyes of influential folks in the world of art.
Promoting your artworks is a necessity in today's times. So, pull up your socks and get ready to practice the aforementioned ways in order to sell paintings yourself.