There is no denial to the fact that art has an extremely powerful emotional impact on people. It is a representation of the artist's thoughts, feelings and fears. Due to this fact it becomes extremely important to choose the right piece for your space as you most certainly won't like to associate yourself with a pessimist or unappealing artwork as later on it is surely going to affect your thought process. It is important to understand here that choosing an art is a deliberate effort as you are going to see it every day and you really have to be fond of it.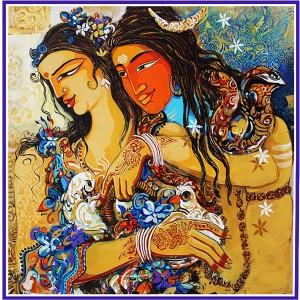 When it comes to decorating your personal space with artistic creations it is important to understand that paintings can assist you in transforming the space in which they are kept. Paintings offer wide choices. You may have a strong liking towards oil paintings or modern art pieces might interest you, before choosing a painting it is important to understand your preferences. Awareness of your taste in art is vital to develop an understanding towards various elements which can affect the beauty of an artwork. Right from the furniture to the lighting, everything has to be in sync in order to elevate the beauty of the entire place. Here are few tips which you must keep in mind while purchasing paintings as these can be extremely helpful in creating a beautiful environment.
Colours:
One of the biggest yet most understated elements of any space is the colour pallet. The colour scheme of a room should be in sync with the painting which is hung in that particular place. Whether you are an admirer of beautiful oil paintings or contemporary art is more of your cup of tea, in both the cases you must remember that colour scheme of the painting should complement the entire space.
Motion vs stillness:
Depending on what you want to depict you can choose between a painting in motion and a still one. If you wish to incorporate energy and liveliness into your place then paintings with motion can be your best friend. However, if a serene and peaceful environment is something which you desire then you can opt for landscape oil paintings as they will be able to bring in the tranquillity of nature in your own little space.
Theme:
While sprucing-up your space it is crucial to remember the style and theme running across it. Traditional looking homes should incorporate beautiful portraits, oil paintings and other landscape items. A contemporary place should be adorned with abstract and surrealism art to intensify its feel. You can most certainly opt for one theme for the entire house or one theme per room. Depending on your taste and personal preferences you can choose the theme.