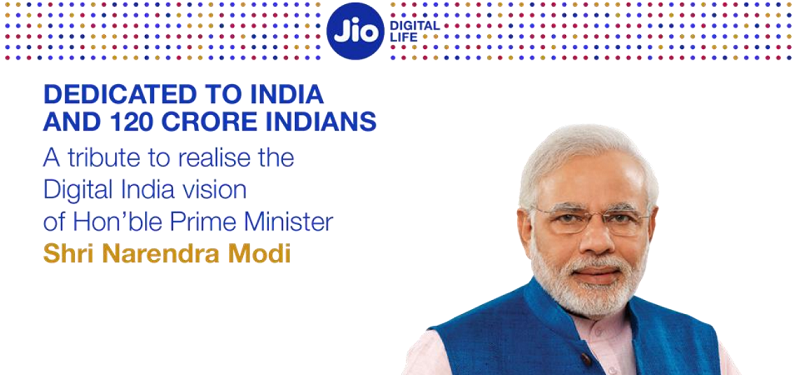 879 total views, 6 views today
JIO is a necessary for Digital India. JIO started the digital revolution two years ago, thanks to which every Indian could access the data. This time it can be defined as a new era of digital technology. In the new age of technology, JIO allows Indians to use inexpensive and abundant data. jio's network is the latest in all IP networks with 800 MHz, 1800 MHz and 2300 MHz bands. jio has the highest LTE coverage in India compared to any other telecom player in India. Soon the network of jio will cover 99% of India's population. For this, jio should be thanked that India has got 4G coverage beyond 2G coverage in 25 years.
Effect of JIO on digital india
Free calling became reality in India after jio came. With all its tariff plan, jio has made unlimited calling facility. After the arrival of jio, the market increased rapidly towards data and the consumer once again became the winner. After jio, the consumption of mobile data increased manifold. Mobile data consumption in India has increased from 20 million GB per month to 370 million GB per month. jio customers use 240 million GB of data.
Contribution of jio to digital india
Along with that, jio is also the world's fastest-growing company. jio made 100 million subscribers in just 170 days. At present, jio has 215 million subscribers who are enjoying its digital services. After the arrival of jio, the customers of other networks also benefited, as the tariff prices fell rapidly after this. Until the arrival of jio, a GB data used to cost around 250 rupees, which has now fallen to Rs. 15 per GB. According to the TRAI Speed Test Portal, jio continues to be the Leader of 4G Network in the case of Speed.
Reliance Jio has become the most-run network in India. Within two years of its implementation, users are willing to use it due to its own Impressive offers. Just as its users are facing a lot of difficulties regarding network issues, Reliance has been facing a lot of difficulties in maintaining Internet quality in the company. If you also have some related resolution from jio Network, then you can register your jio complaint by contacting 24 X 7 Toll Free number 18002002002.
Jio make digital india
jio smartphone with jio Network is also playing an important role in increasing the country towards digital. 25 million live phones were sold by June 30, 2018. The goal of the company is to sell 100 million phones in the shortest possible time. Live is adding many other features to reach customers as much as possible. jio is also moving towards digital education and it has started the system of digital education for engineering and medical examinations. jio Apes has also been greatly appreciated. Nearly 200 million people have downloaded the My jio app so 100 million people have downloaded the jio TV app. jio is determined to include India in Top 5 in broadband connectivity. It has prepared the network with the future in mind and it will continue to provide advanced technology to its customers for many decades to come.