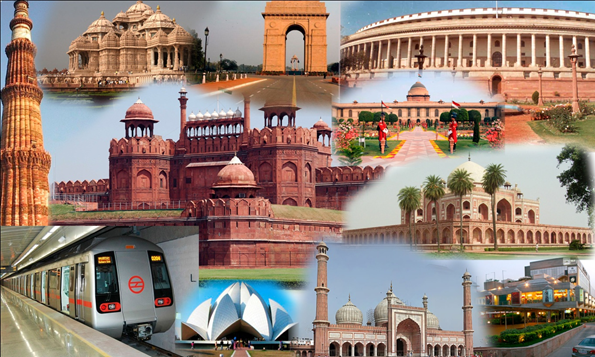 638 total views, 3 views today
Will you be visiting Delhi any time soon and that for the first time? Well then here's a pleasant warning- there are so many things to see in Delhi, that you will probably not be able to catch it all in just one day. It so happens, that Delhi is used by many tourists as a base. People come to Delhi, stay for a night or maximum two nights and then head out other tourist destinations which are well connected to Delhi, for example, groups of youngsters come to Delhi, make a one night stop and then head out to Ladakh for their bike tour.
However being a store house of many wonders and numerous interesting places to see, it is next to impossible to cover Delhi in just one day. So, if you will be visiting Delhi for just a few hours then you have to draw up a tight itinerary so that you can at least fit in the most important things. The trick with Delhi is you have to decide what is important and accordingly plan out your activities for the day!
Dividing Delhi according to importance
Delhi is at once a place full of historical marvels, a cultural hub and of course a shopping paradise. So you have to decide which to go for. If you opt for the historical tour, there are so many things to see that you will probably not even have any time for shopping! You can amalgamate cultural with a little bit of shopping, depending upon when you start out in the morning. The best thing to do hence is to include the places that you want to see in your one day tour in delhi.
Suggestions for time management
Time management becomes a key factor over here. You will have to set out really early in the morning and you won't be able to devote too much time at one place. Hence it is best to categorize. If you opt for Red Fort, Jama Masjid to be your first stop then head out to Old Delhi. You can actually spend your whole day here. After visiting the Red Fort and the Jama Masjid you can check out the alleys of Chandni Chowk and try out the food for which this place is so famed. If you want to include other places of historical interest like the Jantar Mantar and the Qutub Minar as a part of your tour then you probably won't get enough time to move around and explore Chandni Chowk. You will surely pass the India Gate en route some place or the other. The Jantar Mantar is one of the most interesting places of Delhi, which you should actually take out time for. If the historical monuments do not hold much attraction for you and shopping is your main priority then head out to the markets like Janpath, Sarojini and try out Paharganj. If you feel that planning an itinerary is rather painstaking, which it is, then you can easily opt for the one day tour packages to delhi.
You will be able to fit in some important places in one day, but you will not be able to cover it all. So keep coming back to the capital!