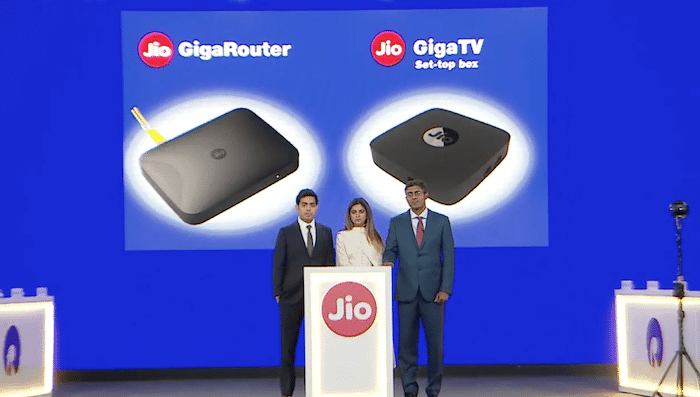 507 total views, 3 views today
The Jio Giga fiber that you all eagerly awaited has been launched on 5 September. The Reliance company has started its broadband service in about 1600 cities. With this new broadband service, Jio company will give you 1 GB high-speed data that you can use to run any OTT and Jio Application.
Along with this, calling from TV to TV, home networking, browsing, and net surfing facilities are also provided. The speed ​​of given internet data will be up to 100 Mbps. With all these features, the Company will give free 4K LED TV and 4k set-top box to subscribers.
Name of Cities in which Giga Fibre Service has given
Till now, Jio Giga internet service is available in about 1600 cities in India. Now you can enjoy Jio Giga fiber in Agra city with high-speed internet facility. Delhi, Hyderabad, Mumbai, Surat, Ghaziabad, Kolkata, Jaipur, Chennai, Vadodara, Noida, Varanasi, Allahabad, Bengaluru, Surat, Lucknow, Jamshedpur, Haridwar, Gaya, Patna, Port Blair are the other cities in the list which are already enjoying the facility.
Jio Fiber TV
The best feature of Mukesh Ambani's much-anticipated fiber-to-the-home (FTTH) service is that it can play TV and you do not need to take any dish connection separately. Right now, users have to make different plans for internet and dish connection. But with this service of Jio, you can avail both through the same plan. In this, the TV will be run from the internet just like other DTH. Reliance Jio 4G plans are available to the consumer, with which you can run TV along with the net pack.
With Which Jio Fiber Plan, Company provide 4k Tv?
The subscriber who chooses the Plantinum Jio Fiber plan and Titanium plan will get One Smart LED TV and One Set-Top Box free of cost.
For Platinum Giga fiber plan users: 32 Inch HD Television & 4k Set-Top Box.
For Titanium Giga fiber plan users: 43 Inch 4K Television & 4k Set-Top Box.
Features of Jio Giga Fiber TV?
Ultra HD (High Definition) is the other term used for 4K.
It has 3840X2160 pixels resolution.
It is a touch screen Television set.
The Screen has about 8 Million pixels, which is four times better than the 1080p TV Screen.
The benefit of having so many pixels is that it gives you a higher density image with a clear and best quality picture.
This is a smart TV that gives you Bluetooth and Wireless Connectivity Function.
Netflix and Amazon have made 4K very effective in the field of today's streaming platforms over the years.
How Does Jio Fiber TV Works?
Jio Giga Fiber Broadband and Jio Giga TV will provide internet and dish connection service using a single cable. The cable used for this service is a Fiber Cable. Now the question is arise if the Jio TV works for other DTH Connection or not.
Que1: Does the Jio TV runs Only on Jio Fiber?
Ans: Yes, This Tv basically works only for Jio Fiber service. The company wants to secure its market area by connecting with its use for a longer time.
Que2: What are the offers for Netflix and Amazon Prime Subscription?
Ans: 3 months Netflix and Amazon Prime subscription with Jio Giga Fiber TV is being given for free. In which you can enjoy free movies web series in HD quality.  Along with this It also gives Unlimited Access of Hotstar Prime all over the country Excluding the Area of Dehradun City.
Registration for Jio DTH Service
Reliance launched Jio DTH along with Jio Fiber Connection. The Registration for Jio DTH service is available for all jio customers. You can enjoy this dish connection on the Ultra HD Tv given with the Ultra-Fast set-top-box.
Jio DTH Channels List
Here we are given you the Details of the Channels given Under Jio DTH connection. The Channels are categories in different aspects:
HD Channels
Entertainment Channels
Movies Channels
Music Channels
News Channels
Sports Channels
Kids Sports Channels
Informative & Lifestyle Channels