Landscape paintings have always been the type of artwork that has been revered by art admirers across the globe. Over past few decades, many artists have tried their level best to bring about the nature's beauty on their canvas. There is no denying the fact that nature's guises are something that no one can actually take home.
However, that's the reason why many artists feel capturing same into their artwork. While many art lovers like to collect or decorate their home walls with famous landscape paintings.
Through this post, we shall in discuss in detail how you can spruce up your personal spaces with attractive and captivating landscape paintings: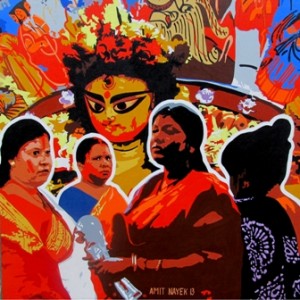 Landscape paintings is type of artwork in which the artists tries to capture natural sceneries, be it blue sky, green grass, beautiful sunrise and sunset, deep blue sea, and skyscrapers. The list is endless to mention. Most of these paintings are created with the use of watercolor, oil and acrylic paints.
With fast-paced and hectic life schedule, it's near to impossible for people to go out for long vacations and stay close to nature. So, most of them try to decorate their personal spaces with famous landscape paintings.
With emergence of online art galleries, now it has even become very easy for online buyers to browse through different types of landscape paintings created by distinguished and budding artists.
Let's have a close look at some of the key artist's work that you can easily find online these days:
Prabal Mallick: He is one of the renowned Indian artists who have been acknowledged for the wide variety of landscape paintings created by him. The painter has been conferred with different awards and honors for exceptional art paintings by the global art admirers. One of his inimitable painted by this artist is "Break" in which he has beautifully represented seclusion of a road. Through creation of two cars standing in a lonely road along with a human figure, he has tried to show the feeling of isolation.
Bhaskara Rao- Another renowned Indian artist who got his name registered in the list of artists who have created famous landscape paintings. His paintings majorly revolve around trees. He thinks that trees play a very critical role in making Earth a better place to live. The artist has participated in various group and solo exhibitions. His paintings present those very exceptional occurrences when nature is at its best.
Arti Naahar- She is a Kashmir born Indian artist who loves to create landscape paintings. She gets the stimulus from nature's beauty, folks and strives to bring about same in her paintings. She thinks when we try to be in natural surroundings then we do feel more close connection with nature. The artist tries to experiment with different types of medium like oil, charcoal, soft pastels.
To sum up, there are a plethora of options available on online art galleries. Search for the right option and you will certainly be able to find best famous landscape paintings for your room walls. You can even consider the above mentioned artists and have a look at the artwork they have created.
4,787 total views, 3 views today