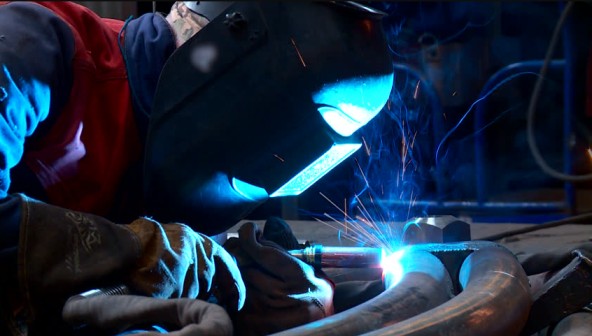 681 total views, 3 views today
Advancing your skills, knowledge, and practice to make your welding talent better with the growing technology is always the identity of a passionate MIG welder. Putting to practice any of these welding tips will improve the quality and durability of your weld outputs.
Below mentioned are the top 5 tips about MIG welding. The following 5 tips will not only improve your overall welding skills, but they will also help to keep you safe on the job.
Safety is always the priority
When it comes to MIG welding tips, safety always grabs the first spot. Welding can be dangerous for MIG welders if safety precautions didn't follow accurately. MIG welding practice involves handling gases, electric current, extreme heat; hence safety needs to be at the priority for welders.
Wear welding sunglasses and gloves

Wear safety helmets, shoes, and clothes

Wear leather footwear

Avoid materials like synthetic that are prone to catch fire quickly.
Always keep in mind that heavy-duty MIG machines often produce a lot of heat and sparks, so you need to protect be cautious while welding metals.
The right welding process and equipment can help improve weld results with aluminium sheet metal. Controlling the heat amount in the MIG welding technique is very important. For this, pulsed MIG welding does the best for MIG welders by lowering the input of heat and make it easier to weld thin materials and minimize burn possibilities.
The pulsed MIG welding process alternates between high peak current and a lower background current, this reduces the overall amperage limit. Adjusting the arc length and wire feeding speed for achieving the optimum performance can help to eliminate the excess heat input, over-welding, and post-weld grinding.
Pick the best MIG welder-filler alloy metal
When it is about picking the best MIG welder alloy metal for aluminium sheet, there are many factors to consider such as a base metal alloy, heating temperature, environment and many more. Compare each option on every parameter and then come up with the best conclusion.
Do detailed research before setting up the equipment
Before you get started for welding, conduct online research to see what the best practices are for the particular wire you want to contact with filler metal. This research will not only tells you what the other welders/manufacturer suggested parameters are for your wire, but also about the wire feed speed, amperage and voltage temperature for optimum performance.
Choose the best drive roll and tension setting
Selection of perfect drive roll and tension setting is important as it will lead to poor wire feeding and also give you a poor weld quality. Before choosing the proper drive roll, consider the size of the electrode wire to be used during the welding process and buy a drive roll that matched to the capacity of the electrode wire.
It takes time, patience and curiosity to grasp the MIG welding skills. If you want to master the MIG weld technique, then make sure to follow these essential tips to sharpen your welding skills.