1,002 total views, 3 views today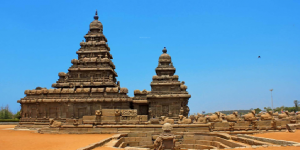 Chennai, the industrial city with an ever growing population of people is the place people arrive to, to take a tour of south India. Set in the state of Tamil Nadu, not only is it considered a major city in India, it is also one of the most powerful. This article talks about Chennai tourism.
Chennai is the perfect entry and gateway to the beautiful land of south India. Established in 1639, the city is highly populated today and is home to thousands of individuals from outside Chennai settling in the city to study or work. The city guarantees neither an especially dynamic nightlife, nor great shopping opportunities, by Indian norms, yet there is something about the city that it always manages to draw a huge crowd of intrigued visitor every year.
Compared to its neighbours of Kerala and Pondicherry, the city does not have much to boast about. It is not beautiful and pleasant like Kerala nor does the beaches it have do much for the city as most of the citizens often go to Pondicherry to enjoy the "beaches". Chennai to Delhi flights are available from the city and is one of the busiest flights from the cities airport.
So what makes Chennai special despite its neighbours clearly beating it in the tourism prospect? Chennai has its own charm of offering things by its own means. The industrial city may not have much to show in itself but is certainly an experience learning the culture of the people. The food is not extraordinary as you could easily taste the same food and even better rendition of that classic in Bangalore, which is a city you will be visiting without a doubt during your tour to south India. Chennai has beautiful churches and cathedrals and also some of the most prominent temples to which devotees from all over India throng to in terms of thousands and pay homage in the temples during festive seasons. You could also take a stroll along the beaches although it may be as impressive or as clean as you may have wanted it to be, still, picturing a sunset on a beach is a always a pleasurable sight. There are a few pubs and clubs around Chennai where you can get some nightlife. Alcohol is not found as abundantly as in other major cities in India and the scorching heat of the city will make you long for a chilled beer anytime of the year anytime of the day.
The good thing about Chennai is that, it opens the way to many pristine destinations in south India. It lies just a few hours away by road to some of the most beautiful and sought after hill stations and towns in the region. It lies in close proximity to any major city in the region and has all modes of transport to those cities and also flight facilities to any major city anywhere in India. Travellers can directly get into the city via the Delhi to Chennai flights without any hassle