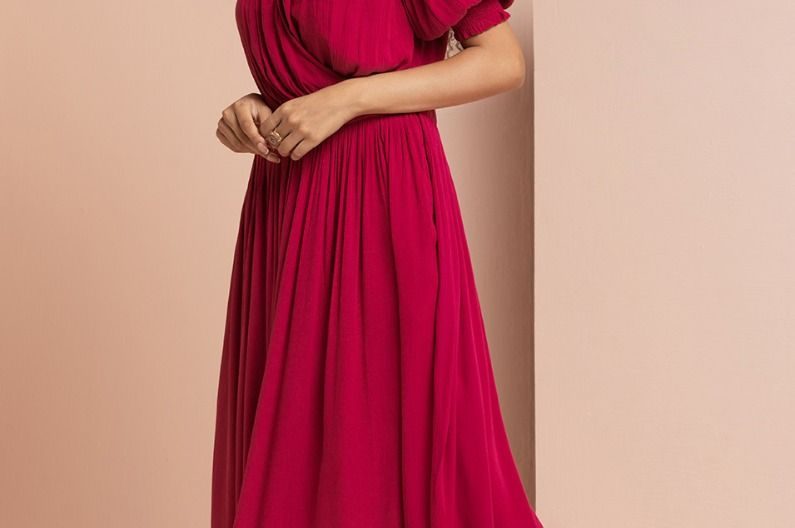 579 total views, 3 views today
Currently, the bohemian style of dressing is said to be among the most popular choices when it comes to fashion, regardless of the season. A bohemian dress can be pretty simple, sophisticated and feminine and it includes a lot of accessorising. They particular way in which you wear the dress and style it to impress everyone around is up to you. But most of the bohemian dresses are characteristically spacious in appearance and allow free movement of the body. These dresses are quite versatile and can be paired with a number of footwear like boots, sandals, heeled shoes, ankle boots, etc. A bag is also important to complete your ensemble. You can either have a casual handbag or a clutch, whichever suits you and your outfit.
If you have a dark coloured shift dress that has long sleeves and also has ruffles, then you can go with a cream coloured clutch bag and beige coloured pumps to create a very elegant look.
For a casual party a black coloured ruched dress is the ideal choice. If you have a black bucket bag, then it is the best thing that you can pair with the dress. Gladiator type sandals will look great with these kinds of dresses for women. You can complete the look by wearing drop earrings and a chunky necklace.
On a sunny day which is full of the summery vibe, you can wear a striped dress that has a little bit of crochet details. Brown flat sandals having leather straps and a nice yellow or nude coloured straw hat will make you look fun and casual.
A boho inspired dress that is colour-blocking along with long sleeves will give you a feminine and simple look. A leather clutch bag that matches the colour of the dress and tartan printed pumps will complete the look.
If you want a simple and relaxed look then you can go for a floral printed black coloured shift dress. Dark ankle boots and a beret hat will pair up nicely with the dress.
As everyone knows, that the bohemian style is filled with details prints and patterns. So a heavily printed dress will be a great outfit choice. You can just wear it with you regular black pumps.
A pastel coloured frock with floral prints and embellishments is a nice outfit for a celebratory or formal occasion. You will look very ladylike and sweet in it. Small heeled pumps in the same colour will pair with the frock in the best manner.
If you are a fan of the 70s, then you should go with a V-necked tunic dress with long sleeves. Wear strappy heeled sandals with it and carry a miniature clutch. Complete the look by adding a chunky neckpiece to the ensemble.
A boho dress that has patchwork is great for a casual outing or even as an evening wear. Just match your clutch and footwear in the same colour and you are good to go. Stud earrings and a simple bangle type bracelet will add to the charm.